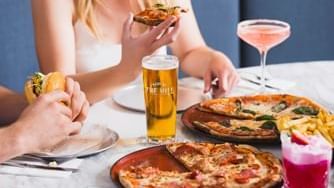 PizzAperta Manfredi follows the craftsmanship of traditional pizza and quality produce, using only artisan and unrefined, stoneground Molino Quaglia 'Petra' flours. The dough is leavened naturally a minimum of 24 hours for taste and digestibility and we only use extra virgin olive oil.
The menu changes seasonally and topping ingredients are be sourced locally from the best fresh produce suppliers. Each pizza is designed with simple flavours to complement the handcrafted pizza base, cooked to perfection in the Stefano Ferrara M130 wood-burning oven direct from Naples.
Traditional and Classic Italian flavours of Marinara and Margherita are clear favourites, as are the Buffalo Mozzarella & Prosciutto di Parma and Calzone Napoli. Seasonal and new wave pizza flavours include Prawn, Zucchini & Mint, Buffalo Ricotta & Fennel Sausage and Lamb Belly with Mediterranean herbs. Salads, local and imported salumi and desserts are also featured on the menu.
Website here
DETAILS
Opening hours

Trading Hours

Thu: 5:00pm - 9:30pm
Fri - Sun: 12:00pm - 10pm
SOCIAL MEDIA